Facebook ads for healthcare software solutions gives you far more wide reach than traditional advertising!
In the present situation, almost all sectors of the industry have gracefully embraced digital marketing techniques to grow at a rapid pace. The Healthcare sector is one of the slow climbers, but the COVID-19 pandemic has changed this situation with more healthcare professionals and service providers quickly got on the digital marketing wave.
Those days are gone when everyone reaches for the newspaper or look for billboards or announcement on a radio or TV advertisement. Now people are sitting at home in their comfort just a click away and browse through the internet for any kind of information, making it an easy task to get data in the digital world. The internet world has taken digital marketing to the next level, which is why healthcare industry professionals have started digital marketing for their software solutions and doctors for patients online!
So, where can healthcare professionals and healthcare service providers showcase their digital ads?
Here is the good news, more than 4.5 billion people in the world use the internet and 3.8 billion people use social media. This means more than 60% of the world's population are online! So, target social media for healthcare-related digital marketing advertisements¹.
There are various social media platforms, but which one to use is a critical decision to make. Well, a study has shown that marketers use Facebook to reach out, as Facebook dominates social media.
Facebook has various options for placing an ad, it allows you to market your products and services effectively in a simpler way and this can-do wonder!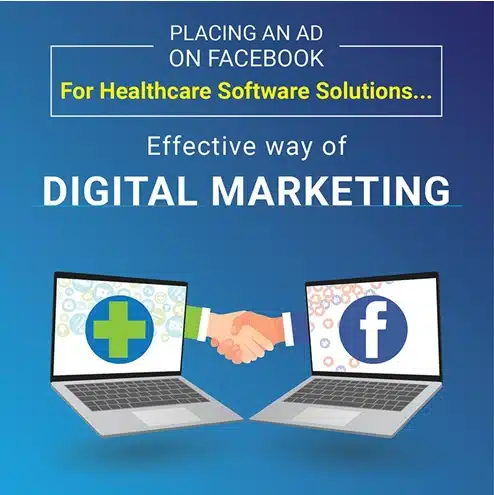 Facebook ads for healthcae software solutions!
How to create an Ad on Facebook?
Let us get started with creating your Facebook ads for your Healthcare Software Solutions.
Follow these steps!
First choose a goal for your healthcare product. You should create goals for your products since advertising campaigns with goals will help and guide your campaign, measures the success of your campaign. Facebook provides you with numerous ad objectives for your campaign, such as:
Build awareness.
Reach new customers.
Drive new customers to visit your website and learn about your products & services.
Get leads to submit a form for demo/trial/to learn more about your products.
Get leads to convert and choose your products.
And many more options at your fingertips, you can start creating FB ads that help you grow your customers through social media.
Find out who is looking for healthcare software solutions. When you set up an Ad on Facebook for healthcare solutions, determine your target audience (Example: Doctors). So, your target audience is the people who are interested and will use your services. Determine your target audience based on factors like Demographics, Interests, Behaviours and other categories, Connections, Custom audience.
Choose an appropriate and best ad type for your healthcare solutions. Do not panic! Facebook offers you several different ad types that you can choose from:
Images: The most common type of Ad and often used for healthcare solutions. It consists of a single photo.
Videos: This contains a video, to attracts an audience. In fact, video ads are a great option for healthcare products, it can improve conversions.
Stories: It is a full-screen vertical video ad. They can provide much more engagement with your product since there is nothing else to distract your audience from your ad on the screen.
Carousels: This ad can showcase up to ten images/photos in one ad. This ad can enable you to showcase your products and services.
Slideshow ads: This Ad will let you create short videos using a collection of images, text, or video clips. This is a good option to engage your audience, as it is easier to create and showcases your products.
Instant Experiences: It was called Facebook Canvas initially; this ad will give full-screen format and allows you to place a fast-loading landing page on the Facebook mobile platform. This will give a great experience to your audience and saves time on converting to your products.
Promoted posts: Also called boosted posts. Any post you publish on your FB page can be boosted so that you can have more audience see your updates. Booster ads will allow you to promote your products organically on your Facebook page.
Facebook allows you to go local. Yes! Find out your target audience/customer within a certain mile from your business office and target your local area first for your healthcare solutions. Facebook will also allow you to target leads based on region, city, state, and country. This will maximize your reach to the target audience. Take time to analyse your range of target audience, maximize on your potential customers and then serve your ad to those target audience whose interest match your content/products in Ad.
Set your Ads with your goals. You can set goals on Facebook ads for driving your target audience to visit your website to action, like submit a form to booking a demo/register/trial and more. So, creating high-quality landing pages for your Healthcare products is important, as your target audience clicks on a Facebook ad, they will easily get converted by landing on to your web page with relevant content.
Your landing page can have information related to your product with accurate and detailed information related to your Ad. You add images, videos, give a clear call to actions (CTAs) throughout such as "Book a Demo", "Book Appointment", "Learn more", or "Contact us" and displays your healthcare company contact information.
Test your Ads. You can test your ads to check if they are successful at driving a new target audience. Different Ads with different goals work differently for different campaigns. So, plan a time for testing your ads and develop Facebook ads for your products and test your ad and landing pages. Test the campaign by changing the elements on your ad, see how it influences conversions and how your audience is behaving on your landing page. Unless you run a test, you will not be able to find the difference in how your target audience is behaving for different versions of your ad. You can tweak ad setup, your landing pages and show them to a different target audience and see what works best for converting your customers. You can do this on a Facebook ad by running A/B testing.
If you have an in-depth understanding of how to run ads with defined goals and target the right audience with relevant content it will be easier to choose the right Call-To-Action (CTA). You can create the best ad for your audience that can resonate with their interest.
Conclusion:
Finally, your healthcare software solutions were developed to help and improve the patient experience by establishing proper communication between doctors, hospitals, patients, pharmacies, labs, and related healthcare services. Digitising patient records and storage of information will help in scheduling appointment, prescription, medicine ordering and delivery within no time, improving healthcare services and save lives! Good healthcare software can help to digitise healthcare services. So where do you stand in the market? How do you sell your healthcare software? A good Digital Marketing campaign can help you market your healthcare software!
You want someone to market your software? Let Ezovion Know! Let us work to help your hospital, clinic, and healthcare software company to drive the target audience and market your products. Contact us for making your Healthcare software solutions marketing more successful than ever!
Reference:
https://medium.com/ezovion/national-digital-health-blueprint-ndhb-implementation-is-the-need-of-the-hour-an-overview-4b3fad1a81b4