Expert Healthcare Social Media Services that attract High-Value Audiences and Increase ROI
Dominate social media platforms and increase audience interaction with hyper-relevant paid and organic social media initiatives with Ezovion Healthcare digital Marketing. Along with organic social media advertising, we also leverage paid social media advertising for a quick, cost-effective way to expand brand awareness, audiences, conversions, and sales.
Consistent, real, high-value social media material given to your followers on a daily basis raises your brand's visibility on search engine results pages (SERPs), increases engagement, fosters brand loyalty, and establishes thought leadership in your field. .Ezovion Healthcare digital marketing can enhance your approach, boost visibility in channels where your audience are likely to be and bring more patients to your door.
Review insights, share fresh information, and set concrete and measurable goals.
Find where your audience are
We help Determine where your most relevant audience is and their major and secondary social channels.
Prepare strategies on how to show up in front of your relevant audience, how to build thought-leadership and boost brand awareness.
Create attractive creative and inspiring copy to drive performance.
Amplify reach and performance
Keep track of ad involvement to reach a larger audience within your target demographics.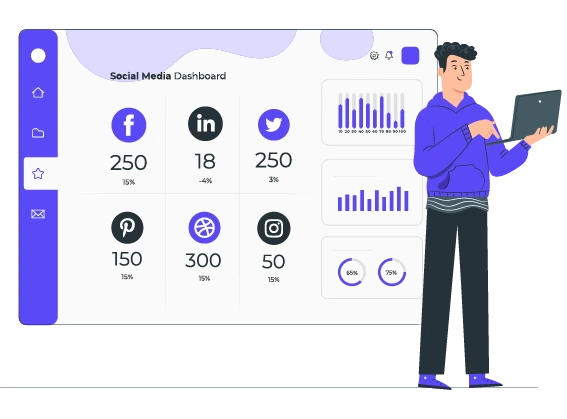 Patient Relationship Management
PRM integrated with HIMS collects leads from ads, builds patient databases and engages with them through social channels such as Whatsapp, Email or more. Leverage our deep-rooted integration of PRM with social channels to automate lead generation faster.
Track status of leads acquired down the funnel using AI/ML, optimize digital marketing initiatives and improve ROI.
Ready to Elevate Your Social Media Presence with Healthcare Social media marketing and reach your bottom line faster.