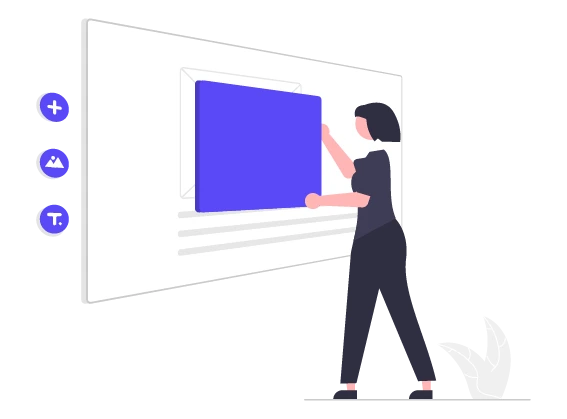 Build your own customized website with us
During the crucial  pandemic times, digital has acted as an anchor shortening the distance between patients and  healthcare providers  in the dire time of need. One year into it, consumers are now accustomed to digital healthcare for everything from-  booking appointments, teleconsultation to learning about your business. In such scenarios- a website for your hospital business is more than just a nice-to-have. 
Whether you need a  persuasive website that evokes thought leadership, a sales-worthy ecommerce website that acts like a sales engine- we are the trusted healthcare website design company that can make it happen. With a full-suite team of designers, developers, creative and strategic thinkers- we  collaborate to ideate and bring out the best performing website that wins for your audience as well as Google. With intelligent healthcare and marketing cross-integrations- we derive you the insights that nails your goals. 
Generic websites serve very little purpose. Trust your custom WordPress design company to build a unique branding beyond the scope of pre-made themes and plugins.
We give your firm a website boost With a unique healthcare website design by utilizing social proof, streamlining navigation, and emphasizing your USPs.
We offer high-performance website redesign services that reinvents your website and improves your bottomline.
We address your web hosting needs while also ensuring high stability and uptime, site security, along with the best medical website design..
We ensure that your site updates and maintenance will be handled by a competent custom web design with full adherence to compliance.
In addition to design services, we optimize in such a way that your Conversion is optimized and your goals are met.
Get ahead of your website goals with the trusted healthcare
website design services
Ezovion Healthcare digital marketing offers unique website design services that can help you establish your brand identification and drive customers to the bottom of the sales funnel. If you're not happy with the way your current website looks or functions, we can redesign it using the most cutting-edge technology.  
We follow a strong plan step by step, beginning with an understanding of your needs, a thorough site analysis, audience assessments, and the creation of a spectacular website design that adheres to your marketing framework. 
Why do you need a website for your hospital business?
Modern Healthcare website design services that add value and increase sales
Modern Healthcare website design services that add value and
increase sales
Leave no opportunity to keep your customer in the loop. Build a stellar e-commerce website for our business now.